Blossoms & Stars

Blossoms & Stars is a beautiful quilt full of purple flowers and wonderful stars, hence the name.


Hera

Hera is a 6 month Block of the Month quilt pattern.


SALE

$ 42.00 $ 28.00
Quantity: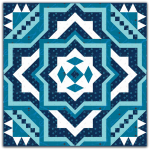 Muse

The Muse quilt is composed of just 3 different blocks. There are alternate colorways to explore, optional Layouts and multiple extra projects. It is a goddess quilt and utilizes The Goddess Tool.


Notes From Chloe

Notes From Chloe is a beautiful quilt created from the Chloe line of fabric.


Aura - Block of the Month
SALE

$ 49.00 $ 24.50
Quantity:






Gaia - Block of the Month
SALE

$ 56.00 $ 28.00
Quantity:






Asteria - Block of the Month
SALE

$ 56.00 $ 28.00
Quantity:






The Goddess Tool
Price

$ 22.00

Quantity: